USB 3.x HUBs
Um noch mehr GerĂ€te ĂŒber Ihren schnellen 3.1 Port anzuschließen (bis zu 256 GerĂ€te theroretisch möglich), benötigen Sie wahrscheinlich einen USB Hub. Ich empfehle immer eine externe Stromversorgung (USB 3 ist aber in der Lage ĂŒber den richtigen Controller viel Strom zu liefern), damit Ihre GerĂ€te mit bestmöglicher Performance und ZuverlĂ€ssigkeit arbeiten. Unter 4-Ports lohnt es sich eigentlich nicht, sich einen Hub anzuschaffen. Die 5GB/s Höchstgeschwindigkeit (USB 3.x gen 1) gibt die Bandbreite an, welche sich die GerĂ€te teilen dĂŒrfen. Achten Sie auch darauf, falls benötigt, dass ein Schnellladeport (mehr Spannung, gut sind 2.4A) und eventuell einen USB-C port an Bord ist. Es wird in Zukunft mehr GerĂ€te mit USB-C geben. Ein Port fĂ€llt Möglicherweise mit der Verbindung mit dem PC zum Opfer. Dabei ist wichtig, dass der HUB ĂŒber den ungewöhnlichen 3.x (Typ Micro-B) Superspeed Stecker angeschlossen ist. Achten Sie außerdem darauf, dass Ihr Anschlusskabel auch der Spezifikation (SuperSpeed) entspricht. Der Stecker bei 3.x hat zusĂ€tzliche Kontakte, bleibt abwĂ€rtskompatibel. Dabei kann man praktisch ca 800 MB/s (3.1) Transferrate auf Sticks erreichen. Schließt man 3.2 GerĂ€te an 2.0 an, kann es zu AusfĂ€llen kommen. Wichtig zu wissen, wĂ€re noch, dass sich die Ports die StromstĂ€rke vom Netzteil meistens teilen.
Diese GerÀte sind mir bei der Recherche besonders aufgefallen:

Model

Kensington UH4000C
Transcend TS-HUB3K
D-Link DUB-1340
SABRENT HB-UMP3 3.2 gen1
TP-LINK UH400 td>

pricing €

48
18
35
25
10

external power supply

JA 5V 1,5A + 1x 3A
JA 12V 1,5A
JA 5V 4A + 2.4A Charge
JA keine Angabe
NEIN, nur Daten

ports

4

external manufacturer link (details)

Kensington
Transcend
D-LINK
Sabrent
TP-LINK
The results may vary by load and mainboard connection. Based on manufacturer information.
Mein Winner ist das D-LINK Model. Mit Kensington habe ich gute Erfahrungen gemacht. Looser ist das Sabrent Model, mangels Performance, FunktionalitÀt und Verarbeitung (sieht aber schick aus ;) ).
---
Extreme PRO USB 3.2 128GB am Backplate des Mainboards (3.1 Gen 1) angeschlossen: Wahnsinn! 1.8G/s, schlÀgt somit einige M.2 NVMe. Die Schreibgeschwindigkeit lÀsst sich mittels folgendem Befehlt ermitteln:
dd if=/dev/zero of=/tmp/nullfile.img bs=1G count=1 oflag=dsync

Unter Windows kann man crystaldiskinfo verwenden. Unter Windows ist der Stick nicht ganz so fix: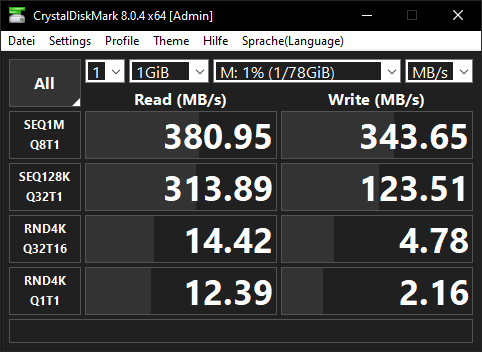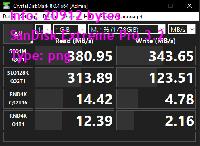 - 4780 Chars - 372 Wörter , Views: 7935
War die Information auf dieser Seite fĂŒr Sie hilfreich?
| | |
| --- | --- |
| | |
| 0 | 0 |
Bewerten:
Rating:2.93
Expand/show comments
Was denkst Du? Hinterlasse hier einen Kommentar zu diesem Artikel.
Bisher : 0 Kommentare.
letzte Aktualisierung
2023-11-29 12:16:23
von
admin
---
Visitors